About the Museum
The museums exploring the history of gastronomy are a novelty in their category and there are yet not many of them around the world.
We have no ambition to show sets of artefacts in a traditional museum manner; we have created a space in which we present in a gripping way to the general public the history of people's attitude to preparing and consuming food from the times of domestication of fire to the present days. We are looking forward to meet you in our museum ! Nina a Ladislav Provaan
Very cool information on the history of food/beer. A lot of it was specifically geared towards Czech food and chefs, which was helpful a the beginning of our trip. The staff was amazing. It was clear that they loved their job and were genuinely interested in helping us learn the most we could about the Czech Republic food & history. (Review from TripAdvisor)
GASTRONOMY MUSEUM
Jakubská 12
110 00 praha 1, old town
Nearest stop is Náměstí Republiky: Metro B, Tram 5, 8, 24, 26, Bus 207.
info@muzeumgastronomie.cz, 602108017, 734112274
OPENING HOURS
:
MONDAY - SUNDAY 10-19 PM
ADMISSION:
Adult- 180 CZK /person
Reduced - 140 CZK / student / senior
90 CZK / disabled, senior (min. 3 people)
65 CZK / child 6-14 years accompanied by parents

Family ticket - 390 CZK / 2 adults + 2-3 children under 15 years

Groups from 11 persons:
Adults - 150 CZK / person
High School - 120 CZK / student
Seniors - 90 CZK / person

Elementary school (only the lower or upper floor) - 65 CZK / children, 1 teacher accompaniment /15 children - free

Guided tour + 390 CZK, for pre-booked groups of 20 persons guide for free
article about the museum on www.czech.cz
One of Prague's most recent new museums is dedicated to the art of cooking through the ages, with a particular look at the Czech contribution to cuisine... MORE
INFORMATION
ABOUT THE MUSEUM
FOR
JAPANESE
SPEAKING TOURISTS YOU CAN FIND
HERE
FROM THE VISITORS' BOOK OF THE GASTRONOMY MUSEUM
The Gastronomy Museum is visited by people from around the world, both laymen and professionals in the field of Gastronomy. Among the professionals is Orest Kramarczuk from Minneapolis. Mr Kramarczuk continues the tradition of his ancestors who immigrated to the United States from Ukraine and founded the Kramarczuk's company which, among others, became famous for its delicious sausages. The fact that Orest Kramarczuk is successfully continuing their production is evidenced by being this year's winner of the award by James Beard, a famous American chef. This award is considered an Oscar in the field of Gastronomy. Mr Kramarczuk enjoyed the Gastronomy Museum very much and wish us all the best also in our Visitors' Book. He even called our Museum a gem!
Orest Kramarczuk with the award for sausages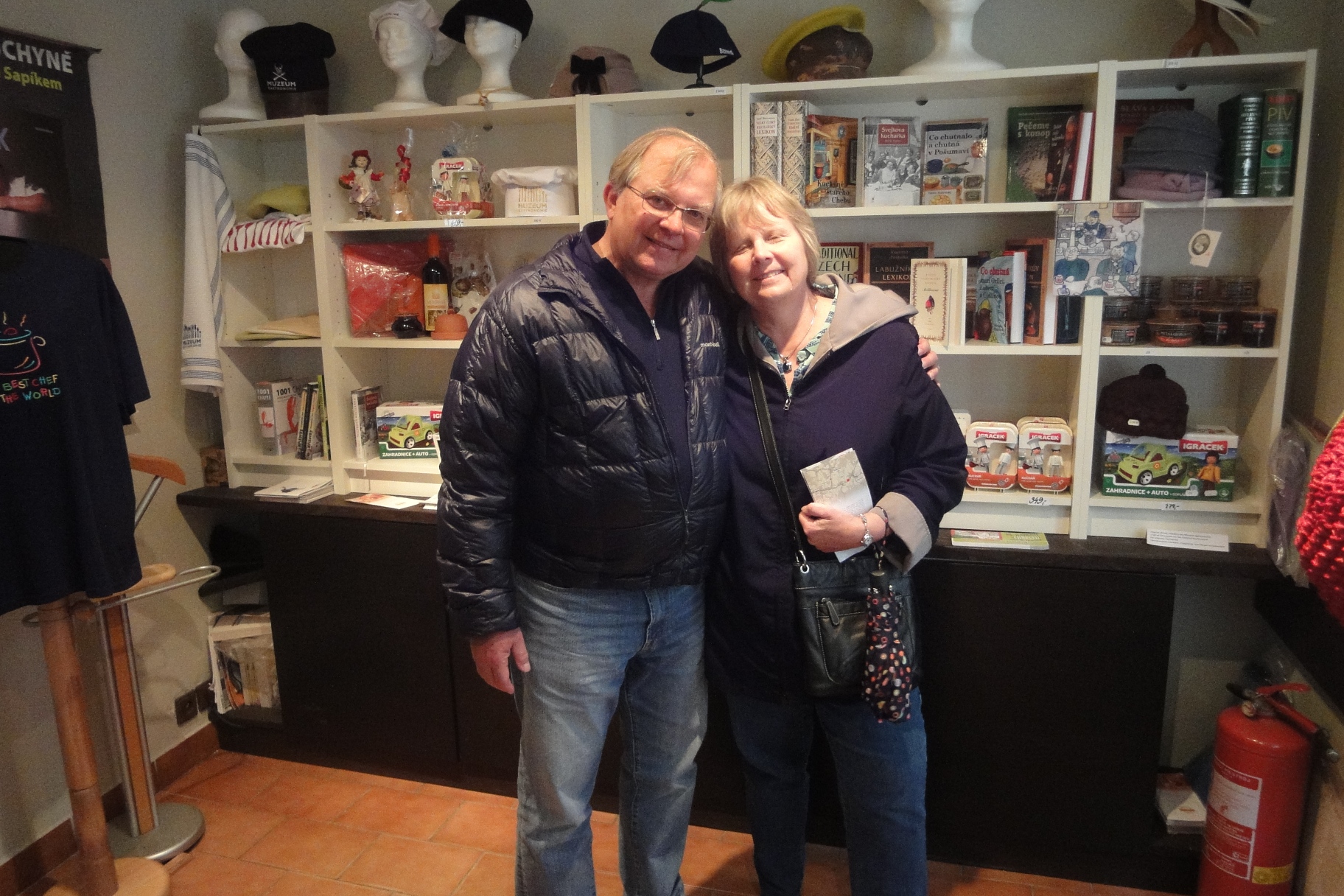 Orest Kramarczuk and Carrie Caldwell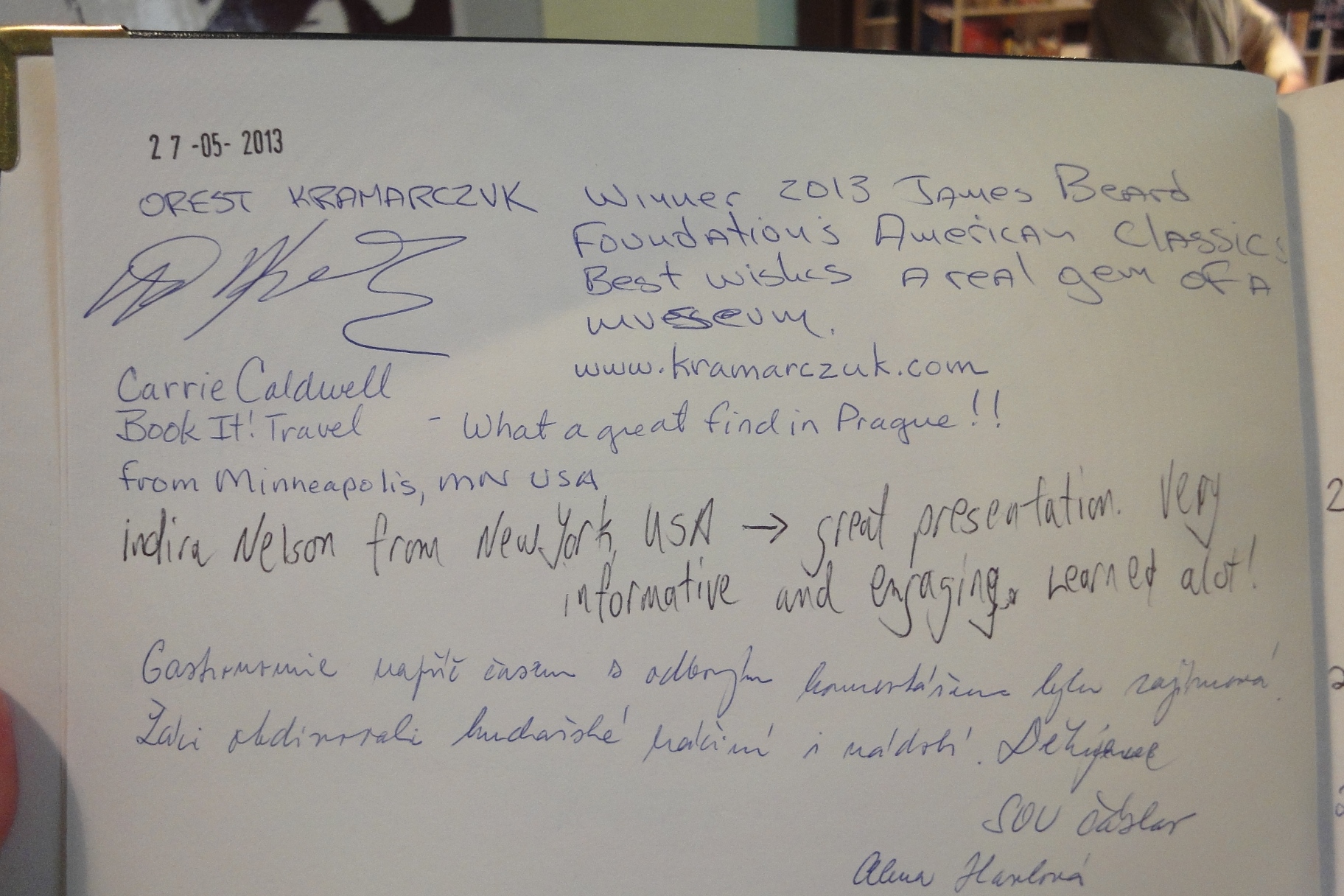 Entry in the Visitors' Book