The Permanent Exhibition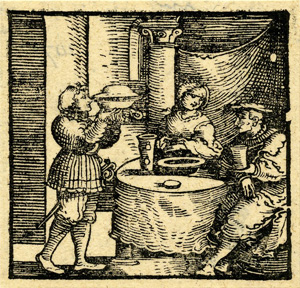 At the Gastronomy Museum Prague we are setting up a walk through the history of cooking methods and food conserving, through the development of kitchens and cooking ranges and stoves from prehistory to the present, also opening the prospects for the future. We will also introduce you to typical cooking raw materials and to various dishes of the cuisine of mainly European, North of Alps origin.
Besides lavishly illustrated display panels, reconstructions of historical interiors and interesting artefacts we will also run some most up-to-date audio-visual presentations, and, of course, events of tasting and degustation.
History of Food Preparation – the Museum's main line will take you from the domestication of fire, prehistoric fireplaces and methods of cooking without cooking pots and utensils, via smoke and hearthstone kitchens all the way to the microwave ovens and convectors.
Dining – in this section you will find out about the history of cutlery and setting the table, including the basic rules of dining manners.
The Gallery of World Chefs explains both the philosophy and the recipes of the famous chefs and gourmets.
The Hall of Fame of Czech Gastronomy and Hospitality introduces important Czech chefs, confectioners, writers and hoteliers from the past, both remote and recent.
Czech Protected Food Names – here you will be introduced to the food products, 19 at the present, that had been accepted as a part of the EU scheme of Protected Geographical Indication Register.
Gastronomy Museum Prague will be open for everyone attracted by the fascinating world of gastronomy and hospitality industry. Interesting information will be available not only to the general public but also to the specialists of all ages.
Multilingual translations will make the exhibition accessible to the foreign tourists.